Blogs of the Week
75% of websites leak personal information
A recent survey of some of the most popular websites on the internet has revealed that 75% of them leak personal information or identifying data to third-party tracking sites. The study was performed by university researchers, including Balachander Krishnamurthy of AT&T Labs, and Konstantin Naryshkin and Craig E Wills of Worchester Polytechnic Institute. Their report was presented at the Web 2.0 conference in California last month.
One of the longest running campaigns of Big Brother Watch came to a conclusion this week as the final camera of the ill-fated 'Project Champion' was removed in Birmingham. Big Brother Watch have been following this story for over a year now, ever since the 218 camera network was installed in Washwood Heath and Sparkbrook, predominantly Muslim areas of the city. There were constant suspicions that the project was based on racial profiling and the financial backing came from the counter-terrorism unit.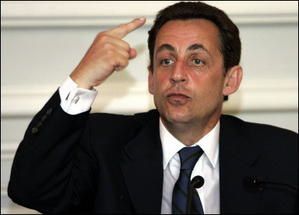 With the dust having settled following the recent E-G8 summit in Paris, many commentators have begun to express their concern at comments made by French President Nicolas Sarkozy  championing tougher government control over the Internet.
 Addressing the summit, Sarkozy argued that internet users must not forget that "governments are the only legitimate representatives of the will of the people". 
While we agree with Mr Sarkozy that the internet shouldn't be a "a parallel universe outside laws and morals", the free-flowing nature of internet content doesn't mean it should be viewed as a ripe for government regulation. Indeed, much of the internet's initial success has to do with the fact it was not constrained by state regulation.
A school in Glasgow has provoked derision and disbelief after sending a letter to all parents demanding pupils wear baggy clothes in an effort to deter paedophiles. The King's Park Secondary School sent the following note:
 "We believe an appropriate school uniform protects children from being targeted by sexual predators. There is recent evidence in south Glasgow of adults photographing schoolgirls in short skirts and schoolgirls/boys in tight trousers, then grooming them through the internet. We must do all we can to keep our children safe. A modest school uniform is more appropriate than fashion skirts, trousers or tops."
Back in October, Alex wrote about the case of Alexander Litvinenko, a Russian national who was more likely than not murdered by a representative of the KGB.  Andrei Lugovoi, the former KGB agent accused of committing the crime, remains in Russia despite extradition request by the Crown Prosecution Service which has been pending since 2007.  It appears that extra-judicial killing has become an accepted facet of Russian law enforcement.
In the United Kingdom, we have long viewed America's stringent alcohol laws with a sense of both mild amusement and confusion.  It would see, to any sensible person, chopped-logic in the extreme for someone to be able to get married, drive a vehicle and serve their country in a theatre of war yet not be able to have a beer legally until they reached the age of 21.
Astonishingly, however, Nicola Sturgeon, the Scottish Health Minister and the country's Deputy First Minister has announced she is considering imposing US-style alcohol laws.
Media Highlights
Daniel Hamilton spoke at the Free Society debate 'Civil Liberties: Up in smoke?" chaired by Mark Littlewood (Director-General, Institute for Economic Affairs and with speakers Peter Hitchens (Mail on Sunday), Simon Davies (Director, Privacy International), Chris Snowdon (author, Velvet Glove Iron Fist: A History of Anti-Smoking) and Oscar-winning screenwriter Sir Ronald Harwood.
Daniel Hamilton on BBC Scotland discussing the use of CCTV cameras in schools.
Daniel Hamilton on BBC Birmingham discussing the final removal of CCTV cameras from a largely Muslim area of the city.

The Independent - Controversial surveillance cameras to be removed   [not available online]


Daniel Hamilton, director of Big Brother Watch, said today: "While we are delighted these cameras are being removed, this expensive and oppressive waste of time should never have been given the go-ahead.

"Vital civil liberties and any basic concept of privacy were both disregarded by this scheme.

"These cameras were totally unnecessary for anti-terror or anti-crime purposes and only served to alienate Muslim residents.

"Public trust in the police has been significantly undermined and will take years to rebuild."
The Star - Swearing in street to cost £80 fine
Daniel Hamilton, Director of Big Brother Watch - a civil liberties and privacy campaign group - said: "While nobody wants to hear foul language while they're walking down the street, this proposal goes a step too far. Intimidating behaviour should of course be punished, but it's important to keep things in proportion.

"The police should spend their time tackling serious anti-social behaviour, not slapping fines on people who utter the odd swear word."
Scottish Daily Star - Fife in the frame as most spied on   [not available online]
Big Brother Watch found 1,350 cameras in the county, more than any other in Scotland.

Big Brother Watch said: "The quality of footage is frequently too poor to be used in courts, the cameras are often turned off to save money and control rooms are rarely manned 24 hours a day.

"With crime on the increase it is understandable that some people want more CCTV but we would all feel safer with more police on the beat. There would be fewer crimes and those crimes that do occur would be solved faster."

Fife cops said that more than 800 criminals were nicked last year with the help of CCTV, with a number of missing people also traced safe and well.

Ways to help Big Brother Watch
Donate to the campaign
Keep us posted on any stories you see that we might be interested in
Forward this newsletter to a friend and encourage them to sign up to the mailing list
Join our Facebook group
Subscribe to our YouTube channel
Follow our Twitter feed